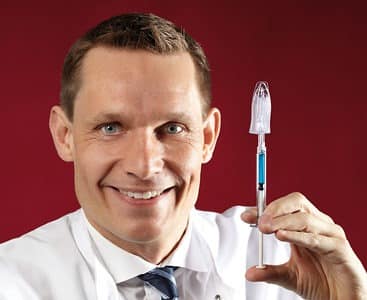 | Company | Position | Country |
| --- | --- | --- |
| Verapido Medical | Managing Partner | Germany |
Dr. Markus Clemenz is a physician-scientist. He studied medicine at Charité Universitätsmedizin Berlin, Germany. From 2003 to 2008 he was (post-) doctoral fellow at the Institute of Pharmacology of Charité Universitätsmedizin Berlin, trained as a specialist in pharmacology in the field of cardiodiabetology and earned his doctoral degree with summa cum laude. From 2008 to 2011, Markus worked for Corporate Finance Partners CFP BioConnect AG (today ACXIT Capital Partners), an international consulting firm for life sciences investment banking services in Frankfurt/Main, Germany. Since September 2011, Dr. Clemenz has been with Hahn-Schickard, Villingen-Schwenningen, Germany, and founded and since then heads Verapido Medical GmbH in April 2013, a medical device company developing innovative targeted drug delivery devices for intra- and subdermal injections and infusions. Verapido's most advanced product is the dermaject® intradermal injection device, a specialty device for injections into the top layer of the skin. Other Verapido programs include a novel device for injections of botulinum toxin, a new infusion device for subcutaneous rehydration and pain therapy, and innovative safety pens/auto-injectors for prefilled syringes.