MedFIT's business convention is the most efficient way to identify and connect with potential business, research partners and investors involved in the medtech sector.
Thanks to a highly efficient and user-friendly platform opening one month before the event, identify and send meeting requests to other participants of your interest.The partnering platform enables MedFIT's participants to pre-qualified up to 30 meetings over the two days.
Why partnering?
Benefit from a balances selection MedTech and Diagnostics / Suppliers and Subcontractors /  TTOs / Academia and Research institutes / Investors.
Identify today's innovative product, technologies, licensing opportunities as well as potential project partners.
Meet and connect to the most qualified stakeholders in the MedTech and Diagnostics sectors.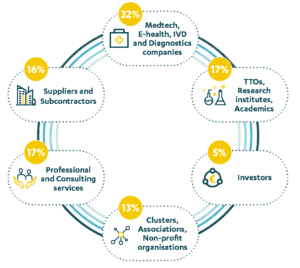 – CEO / VP / Directors
– Business developers
– R&D researchers, scientists and clinicians
– Partnering, Licensing, Scouting
– Technology transfer
– Investors
– Market access, Regulatory