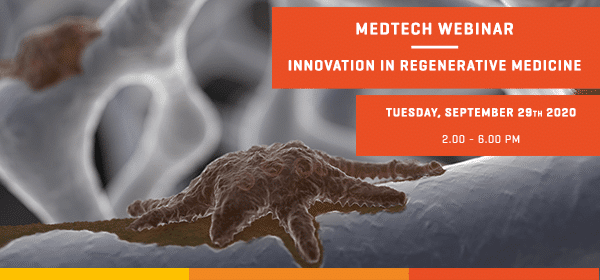 Innovation in Regenerative Medicine
Regenerative medicine seeks to promote the natural reconstruction of injured tissues in order to avoid the long-term drawback of the synthetic implants' deterioration. This need is growing steadily as the implants' service lifespan is increasing due to the worldwide population ageing.
To reach this goal, Bioregenerative implants must combine numerous properties (biological, mechanical, functional, bio-resorptive, bio integrative…) allowing the cells colonization and tissue reconstruction.
In addition to the bioimplant intrinsic properties, it must also be considered the other practical requirements regarding implants' production and distribution process, regulatory rules, and ultimately its deployment in the clinical field.
During this webinar*, speakers will present their experience in the very demanding field of bioregenerative implant research & development:
"Development of a 3D printed bioabsorbable and tissue  bio colonizable matrix for breast reconstruction ", Kévin ROUX, R&D Process engineer for Lattice Medical
"Additive manufacturing benefit for personnalized impants . Application for hand reconstruction surgery. ", Professeur Christophe EGLES, BMBI Laboratory, Université de Technologie de Compiègne
* The webinar will be held in French