HOW TO GET TO STRASBOURG?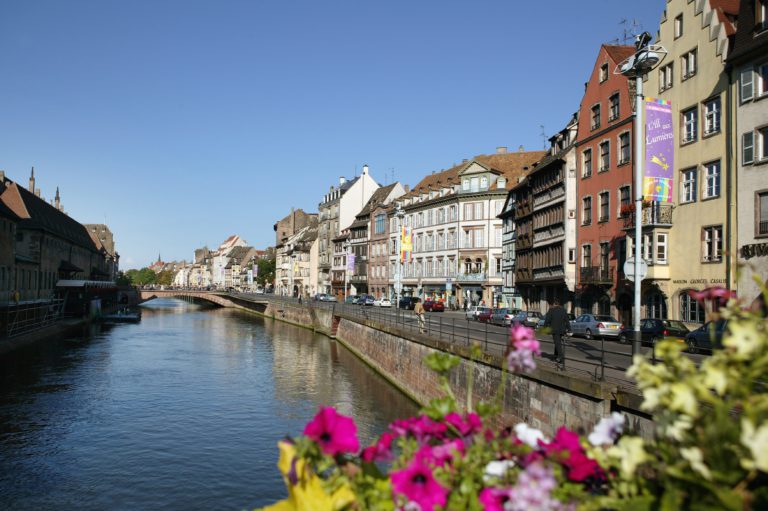 From Paris by the A4 motorway, also known as the Eastern Motorway (it forms parts of European routes E25 and E50)
From Lyon by the A35 motorway
From Switzerland by the RN 83 motorway
Leave the motorway by taking the "Wacken" exit
If you come from BENELUX / German motorways, you can pass by the Europe bridge, between Strasbourg (France) and Kehl (Germany) over the Rhine (10 minutes from the Congress Center)
Please contact the SNCF service if you are interested in a SNCF discount vouchers (only valid for train journeys within France): www.sncf.fr
Strasbourg Train Station
20 place de la Gare, 67000 Strasbourg – France
Take the TGV high speed trains (TGV, EuroCity and Ortenau-S-Bahn) ant stop at "Strasbourg" station. Then, you can go to the Congress Center by streetcar:
Take the streetcar "C – Neuhof Rodolphe Reuss" outside the train station
Or go under the train station, take the streetcar "A – Illkirch" or "D – Aristide Brian"
At the "Homme de Fer" station, take another streetcar (line B "Hoenheim Gare") and stop at "Wacken" station.
Contact your travel agency or call 08 36 35 35 35 from France.
Strasbourg international airport

Route de Strasbourg, 67960 Entzheim – France

Phone number: +33 (0)3 88 64 67 67

Website: www.strasbourg.aeroport.fr

 

The train station is connected to the airport terminal. Trains leave the Strasbourg Main Station every 20 minutes to the airport (trip: 10 minutes).

Attractive discounts, up to -15%, on a wide range of public fares on all AIR FRANCE, KLM and their code-shared flights worldwide.
Event: MedFIT
ID Code: 39500AF
Travel Valid Period: October 3, 2023 to October 18, 2023
Event location: Strasbourg

Please visit the event website or access directly through https://globalmeetings.airfranceklm.com/Search/promoDefault.aspx?vendor=AFR&promocode=39500AF.